Discover more from Sex Weather Climate Death
Writing about the large and small scale changes taking place in a single body and on the planet as a whole.
A Natural History of a Book
How this book came to be.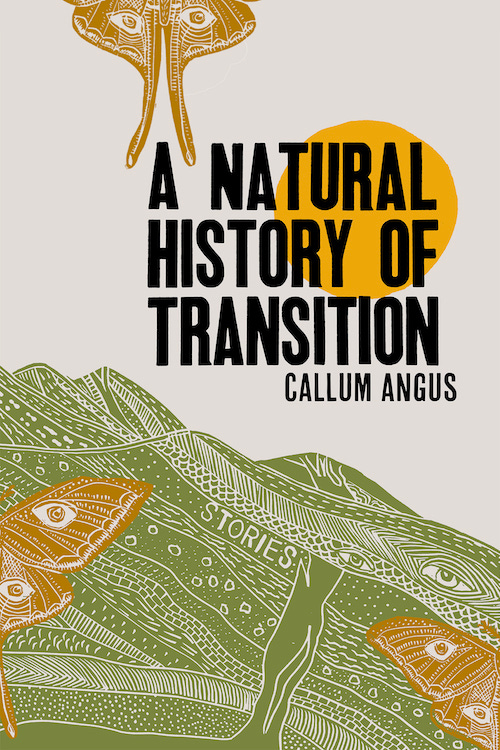 After a summer that has been . . . a lot, I was so happy last week to reveal the cover of my book. A Natural History of Transition is my debut story collection, and you can preorder it now through Metonymy Press's website. If you're a bookseller, then the even better news is that it will be distributed in the U.S. by Small Press Distribution as we come closer to the April 27 pub date. As a former bookseller myself, having the chance to see this book in the many stores I love and have worked with in various capacities was important to me, and I couldn't be happier with Metonymy's approach so far.
I hope it's not too indulgent to provide some background this week about how this book came to be (soon) in the world. I enjoy reading about how writing and the publishing process mix, and I don't think it's written about enough. Publishing is still due for a demystification for most, and I hope if you're reading this and struggling with how/where to publish your own work, that it will help you.
I never thought ANHOT would be my first book. I only wrote a few stories while pursuing my MFA, and focusing instead on a novel. But after three years of querying agents and shopping around that novel about two trans men and the fish of the Rio Grande, all I had was a handful of positive rejections. I know, some people will query and revise and query again for 10 years (or so I'm told), but not wanting to endure that particular form of torture, I decided that more work needed to happen with the mix of trans lit and nature writing that I wanted to do in order for me to find my audience. So I shelved the novel, started smoke and mold to find and publish others writers treading similar ground, and kept writing and publishing stories in the background.
A few people have asked me what kind of book this is. (Look closely at the beautiful cover art by Kiva Stimac at Popolo Press and you'll see "stories" embedded in the mountain). I did actually start out with the idea to write a work of nonfiction exploring the history of transition in the natural world, but I became disillusioned with that structure for its imposition of a linear chronology on both natural history and transition, implying that there is a beginning, middle, and end to each. I'm not interested in proving the ways that trans people are "natural" — a meaningless word; I want to instead shed light on the many ways in which nature and the environment are trans in their very essence. So I abandoned nonfiction (but kept the title) in favor of the broader possibilities available in fiction, and I like the dissonance this produces between expectations of what such a title means, and the contents within.
When I finished my MFA, I was pretty sure I would only be happy with a mid-sized press or Big 5 house publishing my first book. These larger publishers were the only ones deemed worthy, and we were given lots of superstitious advice about how to land an agent, but no guidance on how to write a book proposal for a smaller press, or how to build a community of readers and editors who would be interested in your work. I still don't have an agent, and I'm not sure if I ever will. But now, I count myself kind of lucky to have eloped with my small press instead. Working so closely with Kiva on this cover and being my own publicist has given me a lot more insight into how to describe this book to others, and I feel I'm coming to understand it better this way. Plus, Metonymy has a strong record of successfully publishing other trans authors in the last few years, and I feel confident they understand how to approach a book like this, which is very important to me.
A few more people have asked me in the last week about how to write such a book proposal and how I found my way to my publisher. Although I've thought at times about offering a workshop on writing a book proposal, it was still surprising to me that people would seek advice from me on the subject. Even though I've only done it one time and done it successfully, across my various publishing and editorial work the last few years I think I possibly do have some expertise to give here, or at the very least some feedback to give that may help someone else. So if this is of interest to you, please let me know, and stay tuned.
What I'm Reading
We Want It All: An Anthology of Radical Trans Poetics, edited by Andrea Abi-Karam and Kay Gabriel, out October 27 from Nightboat Books. I've been dipping into this the last few days, and it's exciting purely for the range of different poets and styles represented. As the editors write in the intro, this is sort of a Troubling the Line 2.0, where we've moved past a catchall category of "trans lit" and can start to carve out aesthetic niches within that umbrella. All this is to say, you will find something you like here!
What I Wish I Was Reading
I would really like to be reading more queer and trans writers from Central and South American countries. Ideally in translation, but I'm very hungry for any leads here, so if you have any favorites or groups that you know of doing exciting work, please please let me know. 
Publishing Opportunities
The Essay Press / University of Washington at Bothell MFA Book Contest is accepting manuscript subsmissions until December 5. Judged by Renee Gladmann. Seems especially interested in experimental nonfiction and poetics. (Note: this contest has a $20 entry fee.)
Hayden's Ferry Review is accepting submissions for their online issue BRIEF HAUNTS. Fiction and creative nonfiction <1000 words. Deadline November 5.
Feminist Press is accepting applications for its Apprenticeship Program until November 1. ~20 hrs/week at $15.00/hr. Begins remote, though still unclear if they'll accept applicant outside of New York. 
First time here? Subscribe below. You can find more of my writing at calangus.com.