Discover more from Sex Weather Climate Death
Writing about the large and small scale changes taking place in a single body and on the planet as a whole.
The Death Part
I've been avoiding it.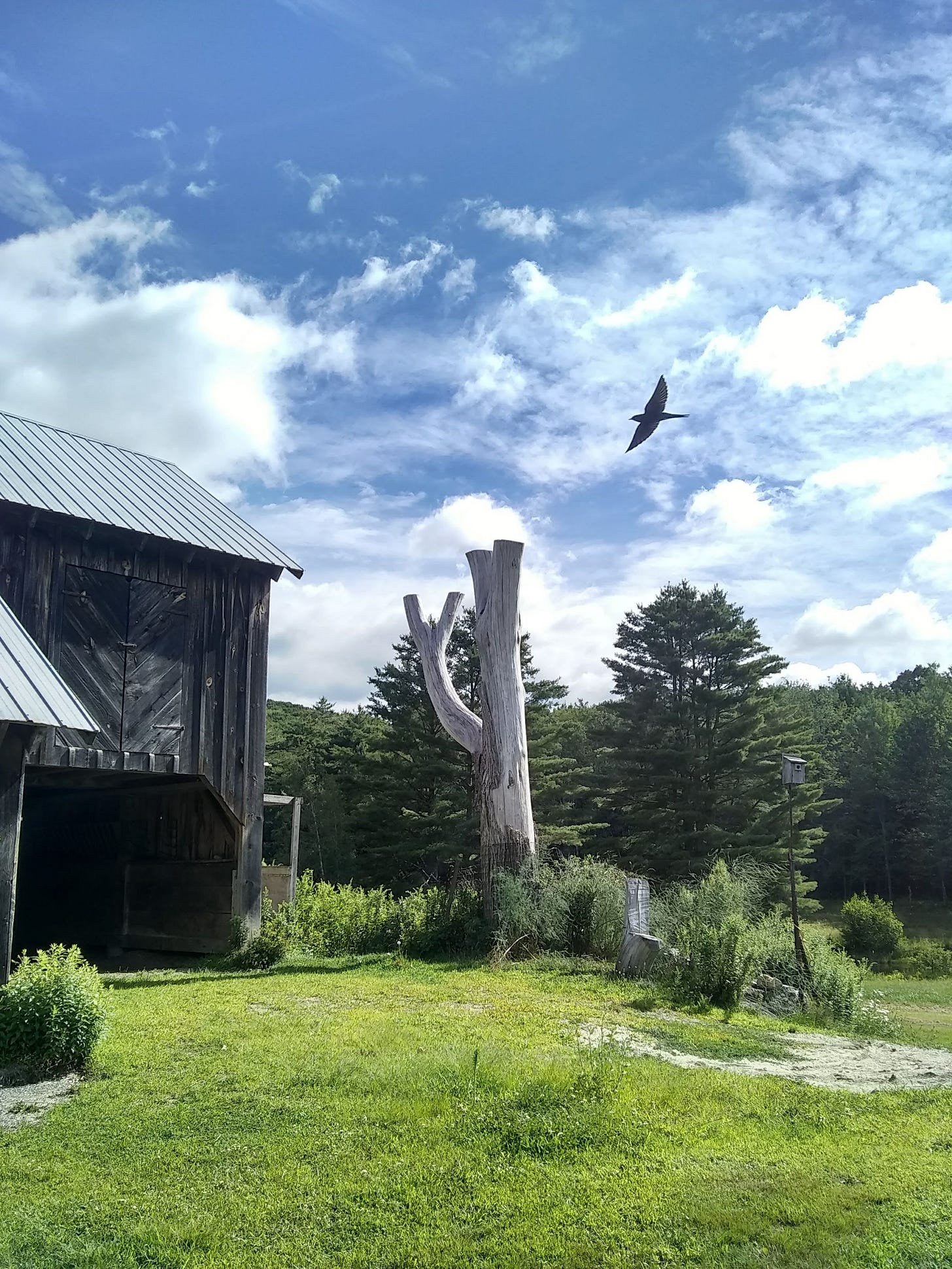 I've stopped and started and struggled with what to write, and then I realized, this is the death part. I don't write that often about death, mostly because I spend a lot of energy trying not to think about it. But writing about death makes it a bit less scary, less unmentionable. 
Like when a tree close to home gets cut down and you suddenly can't remember if it shaded your walk that very morning or if the stump has been there for twenty years; like the tree contains the stump, so too the living face contains the death mask. A picture of a loved one taken after they die reveals less resemblance that it does an understanding that this face was always there. 
I think about the person I was before transitioning, and how it feels as though she no longer is. The feeling isn't so different from death, although I know that can be a controversial statement. Some don't like the term 'dead name', and many have a more continuous line between the person they were ten years ago and the one they are now. But for me, she died. And when I look at old pictures of her, I can see that her face once held mine like the stump like the death mask. In this instance the mask was the first iteration, though who says a mask is any less authentic. 
I've just recently finished writing a story in which the narrator, a trans man, meets his new next door neighbor, who may or may not be his own fourteen-year-old girl self. That's probably why this has been on my mind, among other reasons, like being back on the East Coast where you can feel the turn into fall and summer's death on the last day of July. There is always something dying here, even in the rush of spring, but then there's always something living here, too: a crow in hip-deep snow, a starving deer. They still count. 
Like the stump like the death mask like the kernel of winter held in summer's breath like the foot-thick glacier I once found in the woods deep into June at no elevation, each comparison is really just another version of itself, with death the necessary hinge between is and is-not. Somehow, that's comforting to me.
What I'm Reading
Finally getting toThe Nickel Boys by Colson Whitehead, the first two sentences of which are worth quoting here. Whitehead's always been a writer of incredible style and virtuosity (see his 2020 Pulitzer awarded for this novel), yet still unshy about grabbing our attention right away with plot: 
"Even in death the boys were trouble. The secret graveyard lay on the north side of the Nickel campus, in a patchy acre of wild grass between the old work barn and the school dump."
Also this interview with Jen Jack Giesking about their book A Queer New York: Geographies of Lesbians, Dykes, and Queers, publishing in September of this year:https://www.gothamcenter.org/blog/mappingqueernewyork
What I Wish I Was Reading
I'm always in the mood for more creative work that takes on a reorganization/dismantling/rethinking of scientific forms. The field guide, (the dichotomous key), cladistic nomenclature, and Linnaean conventions. Who is remixing these in interesting ways?
Know of something that sounds like this? Writing something like this yourself? Let me know!
Publishing Opportunities
Goldline Press chapbook contest. Deadline August 15. Award includes $500, among other benefits. Gold Line Press will waive submission fees for writers affiliated with literary affinity groups serving writers of color and LGBTQ writers (i.e. Lambda, Cave Canem, Kundiman etc.). To have your fee waived, contact editors@goldlinepress.com.
The Sator New Works Award will be awarded by Two Dollar Radio to a debut book-length work of fiction or non-fiction by an author who identifies as trans or nonbinary. Comes with $2,500 advance. Deadline for submissions September 1.
Augur Magazine is open for fiction and poetry submissions. Pays .11 cents/word or $60/poem (CAD): http://www.augurmag.com/submissions/
First time here? Subscribe below. You can find more of my writing at calangus.com.