Discover more from Sex Weather Climate Death
Writing about the large and small scale changes taking place in a single body and on the planet as a whole.
The Shy Editor
Writing is the best way to make friends.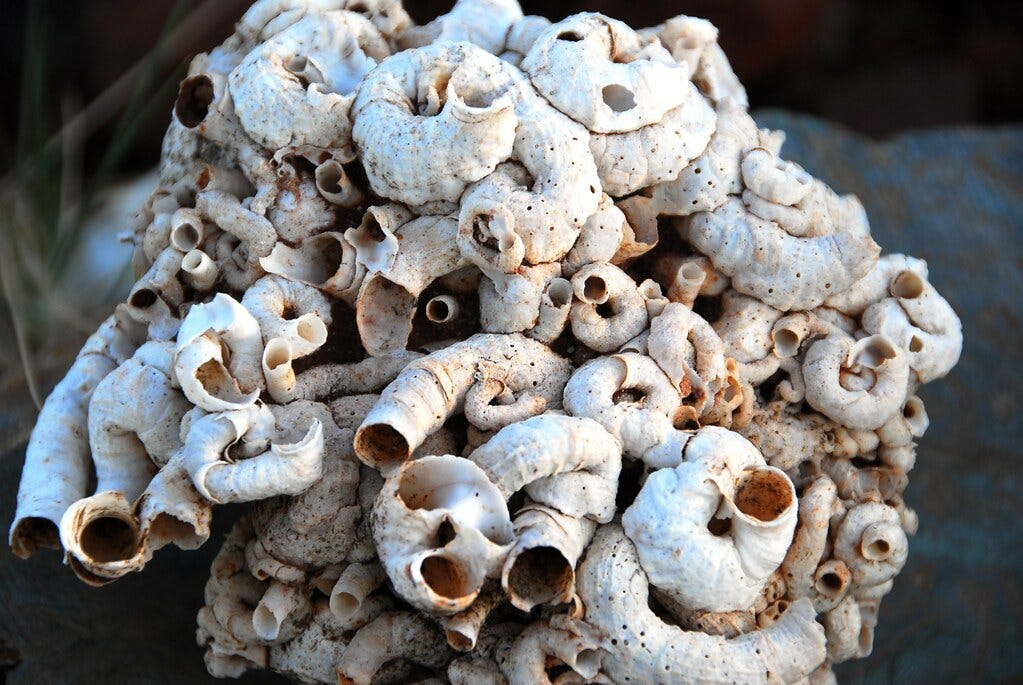 Tube worms know how to hide. They do not start journals. They do leave behind tunnels in rock.
I'm late to the Animal Crossing party (but not, like, theoretically, since I did publish a piece about its museum as nation-building tool back in May), and all I wanna do now is plant flowers and fish and decorate my home, which is really all I want to do IRL, too. But today I'm taking a break from that to trumpet the five amazing writers and pieces that make up issue 3 of smoke and mold, a journal I edit of nature writing, broadly defined, by trans and Two-Spirit writers.
Issue 3 also marks one full year of this project. I have lots of plans and ideas and hopes for what smoke and mold becomes in the future, but I don't want any of that to get in the way of the work in the now. So if you have some spare time this week, please head over to smoke and mold and read this work. I keep issues very small, usually 4-7 contributors, so that I can pay writers and publish work that I truly believe is doing something new and exciting, and that I think deserves wider readership. (And it's so exciting when writers we've published in the past start migrating to print!) This is good for readers, too, as the average person is rarely going to wade through an entire issue of 30 writers, and may just give up altogether. But you, dear reader—you won't, will you?
I love thinking about how these pieces find their way to the journal. In issue 3, some submitted cold, and some I solicited after finding their work thanks to long hours cruising the internet, or after reading the linked google doc of a whole unpublished poetry manuscript-in-progress on their Instagram (which honestly is just genius, should we all start doing this now??). I think in general there's a cynicism about editors not accepting from the slush, that they're lazy and only publish their friends and friends of friends. I can only speak for myself, but seeking out writers and asking them if they are working on anything new is one of the most rewarding and hopeful things I do as part of my "job". 
Moreover, soliciting writers has brought people into my life I would never have otherwise found the courage to approach in a social/virtual-social situation. Being an editor turns out to be a great occupation for the socially shy. Most people who know me personally would probably not consider me a shy person, but that's only because I realized a long time ago that I wouldn't have the experiences or people I wanted in my life if I didn't get over it. And I'm not over it; everyday I still have to push myself to be outgoing instead of reserved when I don't always want to be, and while I've developed some strategies over the past ~20 years of doing this, I'm happy to have found this digital editorial niche that makes it a little bit easier.
What I'm Reading
See above: read smoke and mold! And if you're dying to learn more about this project, read the editorial statement here.
What I Wish I Was Reading
As I finish Silver, Sword and Stone, I'm troubled by some sweeping generalizations made by Arana about indigenous history in Latin American countries. Who should I really be reading for more nuanced and/or personal writing about/from these communities? I'm most keen on fiction, creative nonfiction, poetry, and popular history rather than scholarly articles, but both Spanish and English language suggestions are welcome.
Know something that sounds like this? Writing something like this yourself? Get in touch!
Publishing Opportunities
TriQuarterly is hiring a remote fiction editor. $200 quarterly stipend. Deadline to apply is October 5.
A reminder that Future Tense Books closes for manuscript submissions Thursday, Oct 1. 
smoke and mold is currently open for submissions!
First time here? Subscribe below. You can find more of my writing at calangus.com.